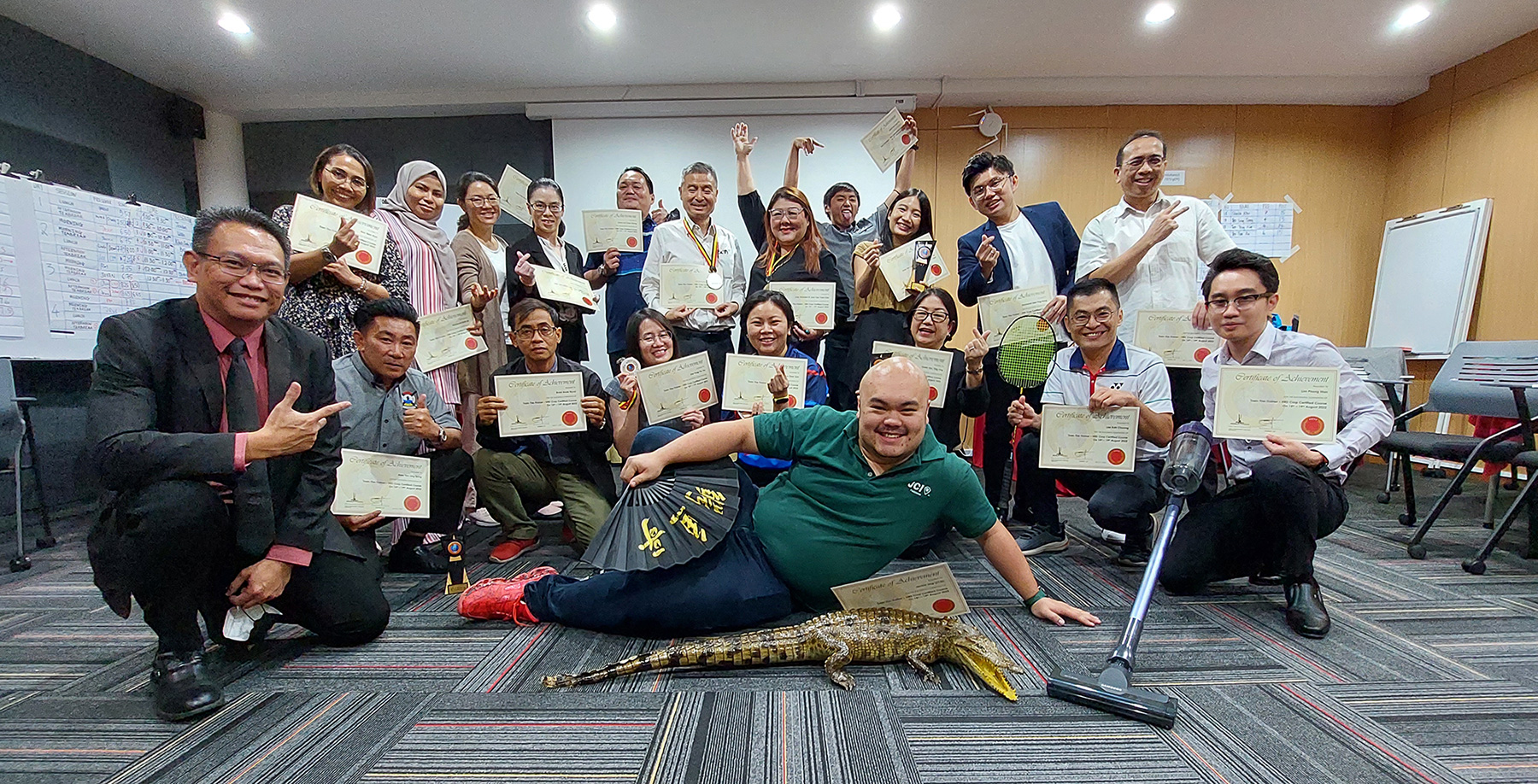 BORNEO'S LEADING TRAINING PROVIDER
An Award-Winning Training Provider - HRD Awards 2022
As a local Sarawak-born training provider, we have, in our bag, extensive experience conducting training for 20 years since 2003. Focusing primarily on talent development, up-skilling, and re-skilling in Sarawak, Sabah and West Malaysia, we have trained over 30,000 individuals to propel them forward in their careers.
Our formula is simple, provides value and knowledge + continuous support after training = quality and effective training.
We provide International Professional Certification for Trainers & HR practitioners through experience, skills, and training assessment.
We emphasise on practical training through setting conditions for how learner can practice what they have learned and performance be evaluated.
We craft tailor-made strategies that are grounded in facts to improvise Management or, more specifically, business strategy.
Lecture as the main training method does not work. We emphasise using different training methodology in all our programmes.
One-size-fits training does not work. People with different levels of expertise have different needs.
Training should not STOP after training days. We continue to support learner to put their learning into work practice.
Borneo's Leading Training Provider
We are Borneo's leading registered training provider, providing soft-skill training since 2003. Our company is a Sarawak – a local-born organisation contributing to the talent development of Sarawak and Sabah's workforce.
Award-winning Training Provider – HRD Awards 2022
We are awarded by HRD Corp, the highest national recognition aimed at recognising training providers and employers who have contributed significantly to the field of Human Resources. This has proven the first-class quality of our services and training.
Custom-tailored Training & Management Consultancy
Our training is not 'on-the-shelf' training. We customise each training to suit the client's organisation's objectives and desired outcomes. Stepping up a notch, we offer management consultancy to organisations that need it, advised by our group of experts.
Our support for clients does not stop after the training ends, as our trainers and consultants will do reviews and follow-ups in ensuring knowledge from the training is applied and impacted the organisation positively.
One of the Pioneers of Train The Trainer
We actively train aspiring trainers throughout Borneo to achieve the standards and quality that HRD Corp has set. We conducted over 130 Train The Trainer sessions, trained 1600+ individuals to be certified trainers and assist 20+ trainers t o be accredited.
During the pandemic, we trained, upskilled and reskilled 893 Malaysian workforces under PERKESO's PenjanaKerjaya initiative
Partner With Sarawak State Government
Selected to partner with the Sarawak State government to train and upskill more than 5200 Sarawak graduates under the state government's initiative, Capacity Building Sarawak (CBG), equipping them with employability skills.
Slide 1
I started off being very sceptical and nervous with this TTT course on the first day.
Trying to find relevance with this course as I've been to other TTT course before. At the end today, Friday I'm happy and blown away at what I've been able to accomplish. Thank you Dom for helping me.
Zulkifli Bin Abu Husin, Captain, MASwings Sdn Bhd on HRD Corp Train The Trainer Certification Course
Slide 2
It is a great eye-opener to bring all the teammates to understand each other, the
togetherness, and bonding.
The interesting and catching for me are Simon Sinek's video and Bengana's video. Conclusion: Take challenges, think positive, work together & dare to change. Be kind and appreciative.
Kelvin Chia Kah Leong, Group Chief Operating Officer, Green Summit Development SB on Culture of Excellence
Slide 3
Impactful, Inspiring , Motivating, and Valuable.
Thanks to David and the program delivery meets our company's expectations and needs. Also personally, I understand my own profiling and how to use it to benefit people around me.
Angela Chai, Senior HR Manager, Hilton Hotel on EQ for Leadership Excellence